Friedrich Repairs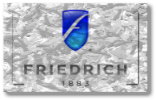 "Durable, Quiet, Efficient
Friedrich air conditioners are hard-working and hard-wearing. Our commercial-grade products are the first choice for tough environments, from oil rigs to the Kennedy Space Center. Constructed from the highest-quality materials and components, these units are built to exacting standards — yet they are among the quietest and most energy-efficient available.
You'll find commercial-grade products for residential use as well. Our ultra-premium Kühl and premium Chill lines give you superior quality, performance and quiet operation in a full range of capacities. For a commercial-grade thru-the-wall unit, WallMaster leads the category.
Since energy use is such a large expenditure, both at home and in the workplace, buying an energy-efficient model is a smart, easy way to save money. "
We at iFix Appliances Houston take great pride in servicing Friedrich's customers. Our courteous technicians will treat your property with the respect that it deserves. They will get your Friedrich's product running like brand new. We are fully licensed and insured and ready to begin working on your repairs today. If any of your Friedrich's Products have been producing any unusual sound, leaking out water, or simply not working properly, give I Fix Appliances Houston a call today for prompt and professional refrigerator repair services.
We have over a decade of experience in all major repairs which has led us to earning a reputation for being detailed, honest, showing integrity and reliability to Houston and surrounding area residents. Our experienced technicians are focused on providing quality service and dependability at the most affordable price. No matter how extent the issue may be we are ready for any challenge thrown our way. We are here to help so call us today to speak to one of our staff members and schedule your appointment today!