GE Repairs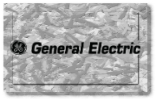 "At GE Appliances, we make life better by designing and building the world's best appliances. From design to production to service, our goal is to help people improve their lives at home.
We value teamwork, innovation, reliability, speed and, above all, a passion to help people. Each of our appliances is designed purposefully with our owners in mind. We make refrigerators, freezers, cooking products, dishwashers, washers, dryers, air conditioners, water filtration systems and water heaters.
From self-cleaning ranges to ice and water dispensers, to speedcook ovens and refrigerators that make coffee, GE Appliances has electrified and modernized life for more than 125 years with our legacy of invention. We invest in the experience that homeowners have with our products. When people buy from us, they don't just get an appliance, they become a member of our family, a family that is there for one another for the life of the product."
We at iFix Appliances Houston take great pride in servicing GE customers. Our courteous technicians will treat your property with the respect that it deserves. They will get your GE product running like brand new. We are fully licensed and insured and ready to begin working on your repairs today. If any of your GE Products have been producing any unusual sound, leaking out water, or simply not working properly, give I Fix Appliances Houston a call today for prompt and professional Washer repair services.
We have over a decade of experience in all major repairs which has led us to earning a reputation for being detailed, honest, showing integrity and reliability to Houston and surrounding area residents. Our experienced technicians are focused on providing quality service and dependability at the most affordable price. No matter how extent the issue may be we are ready for any challenge thrown our way. We are here to help so call us today to speak to one of our staff members and schedule your appointment today!