Speed Queen Product Repairs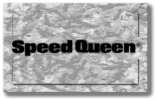 "EXTREME-TESTED ELECTRONIC CONTROLS"
Many washers and dryers have "touch panel" controls. But, none have an industry-best five-year warranty backing them up like Speed Queen does. Our control panels are designed and manufactured to last 25 years and we back that up with rigorous testing to make sure our circuitry stands up to extreme moisture, temperature, vibration and power surges. So go ahead and push our buttons. You'll experience the quality, dependability and durability built into every Speed Queen machine.
We at iFix Appliances Houston take great pride in servicing Speed Queen customers. Our courteous technicians will treat your property with the respect that it deserves. They will get your Speed Queen product running like brand new. We are fully licensed and insured and ready to begin working on your repairs today. If any of your Speed Queen Products have been producing any unusual sound, leaking out water, or simply not working properly, give I Fix Appliances Houston a call today for prompt and professional Washer and Dryer repair services.
We have over a decade of experience in all major repairs which has led us to earning a reputation for being detailed, honest, showing integrity and reliability to Houston and surrounding area residents. Our experienced technicians are focused on providing quality service and dependability at the most affordable price. No matter how extent the issue may be we are ready for any challenge thrown our way. We are here to help so call us today to speak to one of our staff members and schedule your appointment today!