Magic Chef Repairs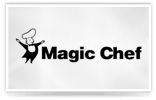 "Today, the Magic Chef brand is experiencing a reinvigoration in terms of product development, marketing initiatives and connection with its consumers. It is built on the pillars of "easy everything", "everyday dependability" and "accessible customer service". Simply put, the Magic Chef brand is committed to making products that are simple and easy to use for consumers.
Magic Chef. Simple Products. Simple Pleasures."
We at iFix Appliances Houston take great pride in servicing Magic Chef customers. Our courteous technicians will treat your property with the respect that it deserves. They will get your Magic Chef product running like brand new. We are fully licensed and insured and ready to begin working on your repairs today. If any of your Magic Chef Products have been producing any unusual sound, leaking, or simply not working properly, give I Fix Appliances Houston a call today for prompt and professional refrigerator repair services.
We have over a decade of experience in all major repairs which has led us to earning a reputation for being detailed, honest, showing integrity and reliability to Houston and surrounding area residents. Our experienced technicians are focused on providing quality service and dependability at the most affordable price. No matter how extent the issue may be we are ready for any challenge thrown our way. We are here to help so call us today to speak to one of our staff members and schedule your appointment today!